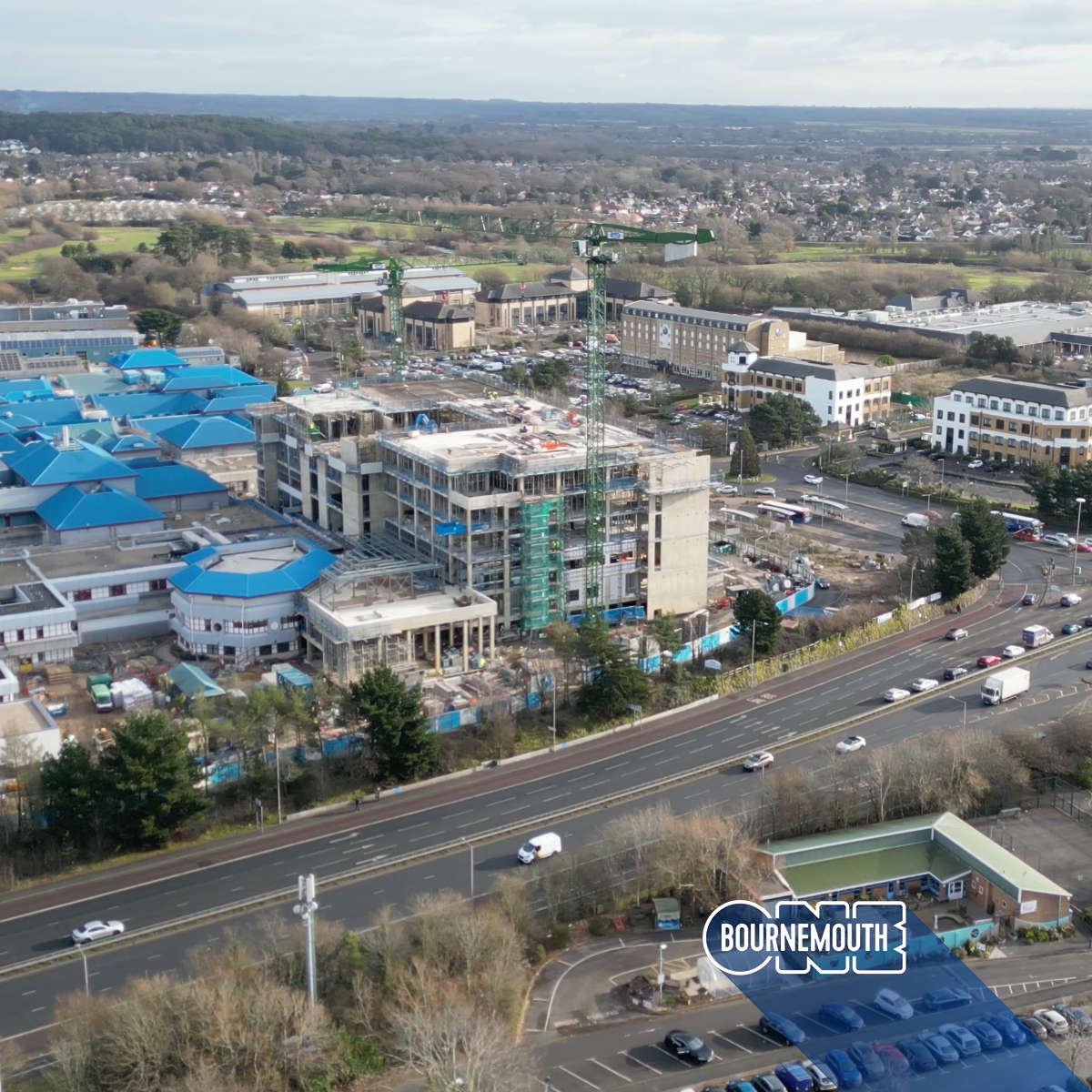 Should be ready in 2025!
Patients in Dorset will see the benefits of the £250m investment in services at University Hospitals Dorset 18 months earlier than planned.
The decision by the Trust's board last week means that the planned care hospital at Poole Hospital, and major emergency hospital at Royal Bournemouth Hospital will be established from spring 2025 – making the most of the new developments as they become available.
Facilities currently under construction include the new 22,650m² BEACH Building (standing for Births, Emergency And Critical care, children's Health) on the Royal Bournemouth site (pictured), housing a new purpose-built maternity unit, children's unit, enhanced emergency department and critical care unit.
The finishing touches are also being made at Poole Hospital to the new theatres complex – an extension to the existing hospital building comprising of a brand-new purpose-built five storey tower.
Commenting on the decision, Siobhan Harrington, UHD's Chief Executive said: "For everyone involved – our patients and their families, colleagues and the public across the Dorset – this is fantastic news.
"After a lot of anticipation, we are now able to say that we will be able to establish the planned and emergency hospitals', within the next 2 years.
"I want to thank everyone involved for the dedication and hard work involved in getting to this point and look forward with great excitement to opening the doors on our new facilities in 2025."
Dr Isabel Smith, UHD's Medical Director for strategy and transformation, added: "Led by our clinicians, we've been looking at the safest and most practical way to achieve our aim of separating planned and emergency care within our new and existing buildings.
"We collaborated with local GP leaders, the ambulance service as well as other partners in considering safe pathways for our patients.
"We're really pleased that we now have confirmation to reconfigure our services across the sites in Spring 2025 – resulting in earlier patient benefits from the split between emergency and planned care."
Dr Paul Johnson, NHS Dorset's Chief Medical Officer, said: "This is great news and moves us a step nearer to delivering very significant benefits for patients.
"The changes originally outlined in the Dorset Clinical Services Review represent a 'once in a generation' opportunity to reconfigure our services.
"It will lead to easier access to emergency and planned care, shorter waiting times as well as better outcomes through revised patient pathways using both sites."
Other developments on the Royal Bournemouth include a new ward block as well as a purpose-designed pathology hub providing a modern, flexible testing capacity. Poole Hospital will also contain a new Urgent Treatment Centre – open 24/7, as well as enhanced outpatient, cancer and diagnostic services. On the Christchurch Hospital site, the ambition is to rebuild the Macmillan palliative care hospice, with the support of Macmillan Caring Locally charity.