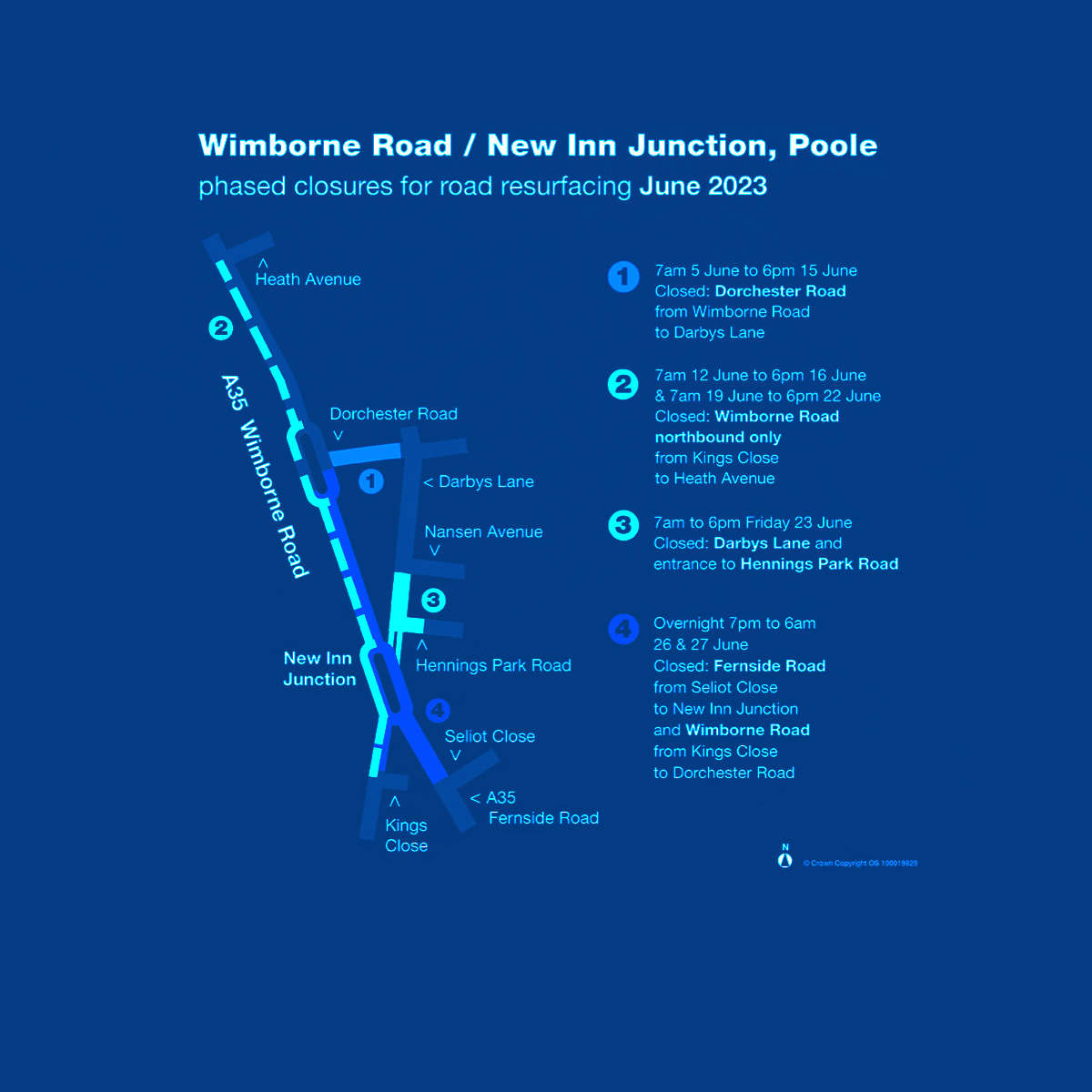 More work on Wimborne Road incoming.
Essential carriageway resurfacing will be undertaken on Wimborne Road in Poole from Kings Close, through the New Inn junction, up to Daisy Close in Oakdale in June.
The work will also include resurfacing the junctions of some of the roads where they join Wimborne Road, including Dorchester Road, Darbys Lane and Fernside Road.
The work is due to start on Monday 5 June 2023 and complete on Wednesday 28 June. It will be undertaken in four phases with different road and lane closures in place for each phase. During the works, traffic will be managed by diversions and temporary traffic lights and the diversion routes will be fully signposted.

Some local bus routes will be temporarily affected and diverted.

Julian McLaughlin, Director for Infrastructure at BCP Council said: "This essential road resurfacing project will improve the surface quality and safety along this busy section of Wimborne Road in Poole. At the end of the project all users will benefit from a smooth, pot-hole free route into and out of Poole town centre.
"We have scheduled this work as carefully as possible to minimise the disruption to local residents, commuters and all other road users and have included some periods of night work to help speed-up the project and keep it as short as possible.
"The nature of the project means that both day and night-time work is required and cannot be limited to night-time only. We appreciate that there will inevitably be an impact on traffic flow, so would please ask the travelling public to allow extra time for their journeys or utilise alternative transport such as walking, cycling or taking the bus where viable. We are doing everything possible to limit the length of time that these important roads will be closed. We thank all road users for your patience while the works are carried out and apologise in advance for the disruption caused."
Phase and Road

Closure Location

Planned Times/Dates

Phase 1: Dorchester Road

Closed between Wimborne Road and Darbys Lane

From 7am Monday 5 June to 6pm Thursday 15 June

Phase 2: Wimborne Road

Closed northbound only from Kings Close to Heath Avenue

From 7am Monday 12 June to 6pm Friday 16 June and

From 7am Monday 19 June to 6pm Thursday 22 June

Phase 3: Darbys Lane

Closed south of Nansen Avenue including the entrance to Hennings Park Road

From 7am to 6pm on Friday 23 June

Phase 4: Fernside Road and Wimborne Road

Fernside Road from Seliot Close to New Inn junction and Wimborne Road from Kings Close to Dorchester Road

Overnight from 7pm to 6am Monday 26 and Tuesday 27 June (finishing 6am Wednesday 28 June)