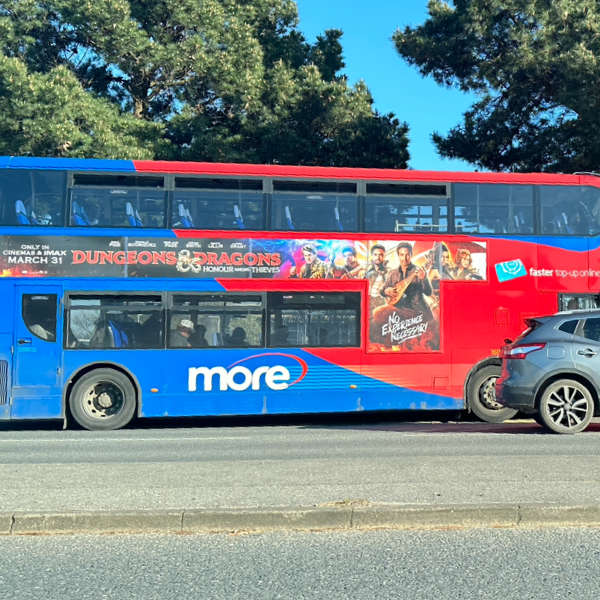 Government grant win means more More Buses
BCP Council and Morebus have announced a significant improvement to the route 18 bus service, which runs to and from Broadstone, through Waterloo Estate, Canford Heath, Foxholes Estate, Newtown and Sea View, Upper Parkstone, Westbourne and Bournemouth town centre.
The popular route which previously ran every hour will now run at an increased frequency of every half an hour in the day-time, Monday to Saturday. Added to this, there will also be a new regular service running every two hours on the same route on Sundays.
Passengers on this enhanced service will also benefit from the Government's £2 maximum single fair offer on all bus journeys, which it is hoped will be extended until 31 October 2023 once funding is agreed. Accompanied children under 7 can travel for free.
The improved route 18 services will be operated by Morebus, BCP Council's main bus services partner, and has been made possible through BCP Council securing an £8.9m grant from central government, awarded specifically for improving bus services across the conurbation.
As a result of this same funding award, a second enhanced bus route will be launched in September this year, with the route 13 service between Bournemouth and Wimborne increasing its daytime frequency with a bus service every 20 minutes, instead of the current every half an hour.
Councillor Vikki Slade, BCP Council's leader who also holds responsibility for the Local Transport Plan said: "We are really pleased to have been successful in securing this sizable grant from central government, which means we can offer a tangible improvement to people's transport choices.
"As part of our Bus Service Improvement Plan1 and our commitment to transforming local travel, we want to increase the number of people choosing to travel by bus. To do this, we want to ensure that buses are more frequent, more reliable, cheaper, better co-ordinated and that routes and timetables are easier to understand and use. We will continue to apply for funding to support more bus routes so that every community in BCP can access public transport more easily."
Morebus general manager Richard Wade, added: "Together with BCP Council, our team has worked hard to secure government funding support for this important service improvement. Just one double decker bus has the potential to take up to 75 cars off our roads, so we strongly believe buses are the perfect solution for reducing congestion within our area. The Bus Service Improvement Plan will play a significant role in achieving this."