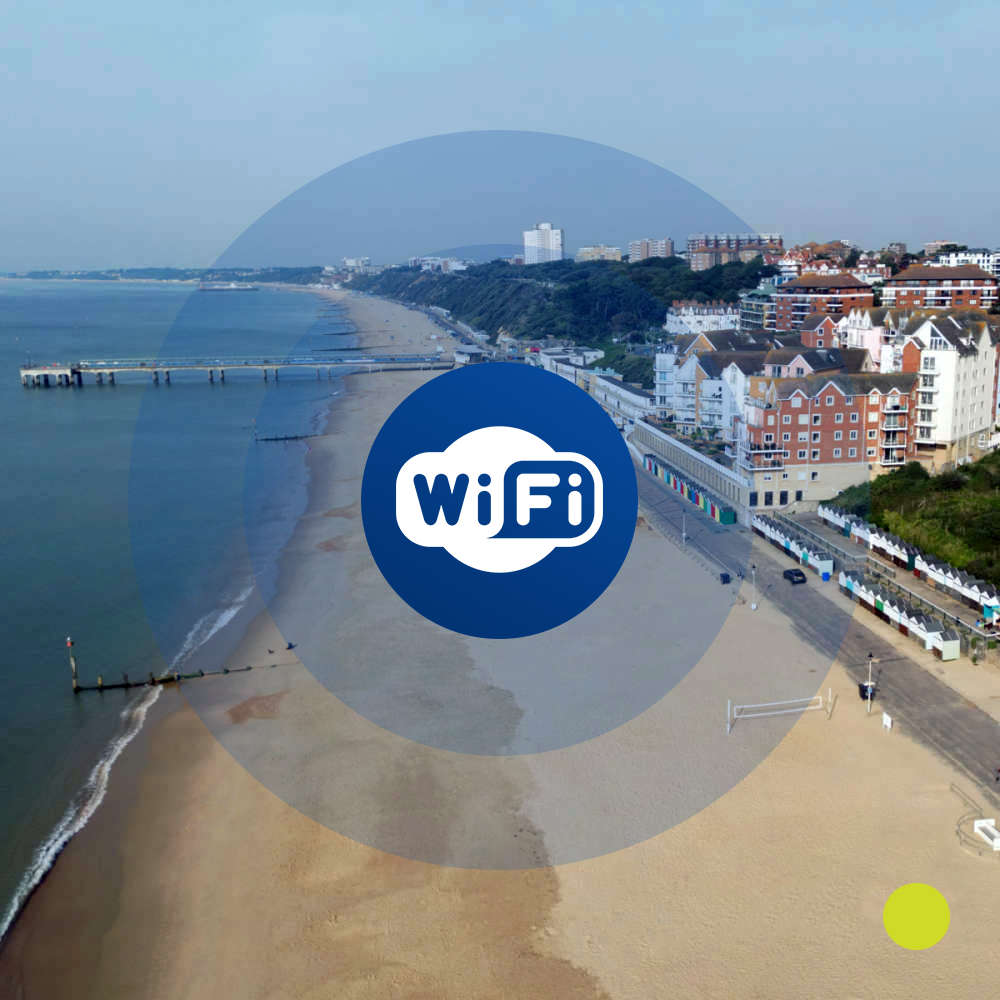 Log on and surf along the beach
A free public Wi-Fi service delivered by Bournemouth Christchurch and Poole Council's Smart Place programme is now live along Boscombe seafront.

The Wi-Fi was trialled during this year's Bournemouth Air Festival, with almost 2,000 people using it to stay connected.

The service helped support businesses and charities working at the festival to take card payments that were initially failing due to insufficient 4G network coverage.
The existing safe and secure service has operated in Lansdowne and parts of Boscombe town centre for the last two years and has attracted over 30,000 users. The next stage of the Wi-Fi extension will include Boscombe Crescent to Kings Park and towards the Vitality Stadium, due to be completed by October 2023.
BCP Council Leader, Councillor Vikki Slade said: "I'm delighted with how successful the Wi-Fi service has been in Boscombe and I look forward to the further benefits it will bring to the area.

"I think this is a really positive example of optimising government funding to keep our communities connected and engaged so that everyone feels included. I would encourage local businesses to get in touch with the Smart Place team to discuss how they can elevate your services and promotions online."

The free and accessible network is now available at these locations:
all Boscombe precinct
from Boscombe Precinct westwards along Christchurch Road as far as the Crescent
Boscombe Precinct along Christchurch Road to Pokesdown station
Sea Road from the Precinct to Boscombe Pier
promenade from Boscombe Pier to Manor Zigzag
promenade from Boscombe Pier to Toft Steps.
Users can select 'BCP Council Smart Place free Wi-Fi' on their device list to access the service.

They are served local information including travel, events, and local business offerings, helping to boost the local economy.

BCP Council Smart Place R&D Consortium partners, CCN Communications Ltd, Yo Wireless, Volker Highways and Cambium Networks supported on building and delivering this network to our local area. The Smart Place R&D Consortium is a community of both local and wider companies who help to develop and deliver new and enhanced Smart applications and services.

Ashley Adams, Founder and Owner, CCN Communications Ltd, said: "It's brilliant to hear about the technology in action and how it's benefitting communities. We love being a part of this great work."
Karl Girdler, Technical Project Director, Yo Wireless, said: "We look forward to growing the Network with the BCP Smart Place team cross the wider BCP area, delivering high quality, secure service to the public and local businesses."
Local digital connectivity issues highlighted through the Bournemouth Air Festival free Wi-Fi trial are being addressed by The BCP Council Smart Place team.

The programme of work includes growing the digital sector locally and the development of innovative digital solutions.